When it comes to equestrian sports, the right apparel not only enhances performance but also reflects the rider's unique style and personality. In this blog, we dive into the world of classic riding apparel, featuring exquisite equestrian breeches and shirts that offer both functionality and fashion-forward elegance. Let's explore how these versatile pieces can be mixed and matched to create show-stopping equestrian ensembles.
The Ultimate in Comfort and Style: Classic Riding Breeches
Crafted from 100% polyester, our Classic Riding Breeches are a true marvel of equestrian apparel. The ultra-stretchy, moisture-wicking, 4-way stretch fabric provides maximum comfort during rides, ensuring you stay focused on your performance. What sets these breeches apart is the anti-slip silicone full-seat, offering unrivaled stability and safety for riders in any discipline. The deep side pockets are both stylish and practical, allowing you to carry essentials like horse treats, your phone, wallet, and keys with ease. The supportive waistband not only adds comfort but also supports your core, enhancing your riding posture and form. With these breeches, you'll be ready to conquer any equestrian challenge in both comfort and style.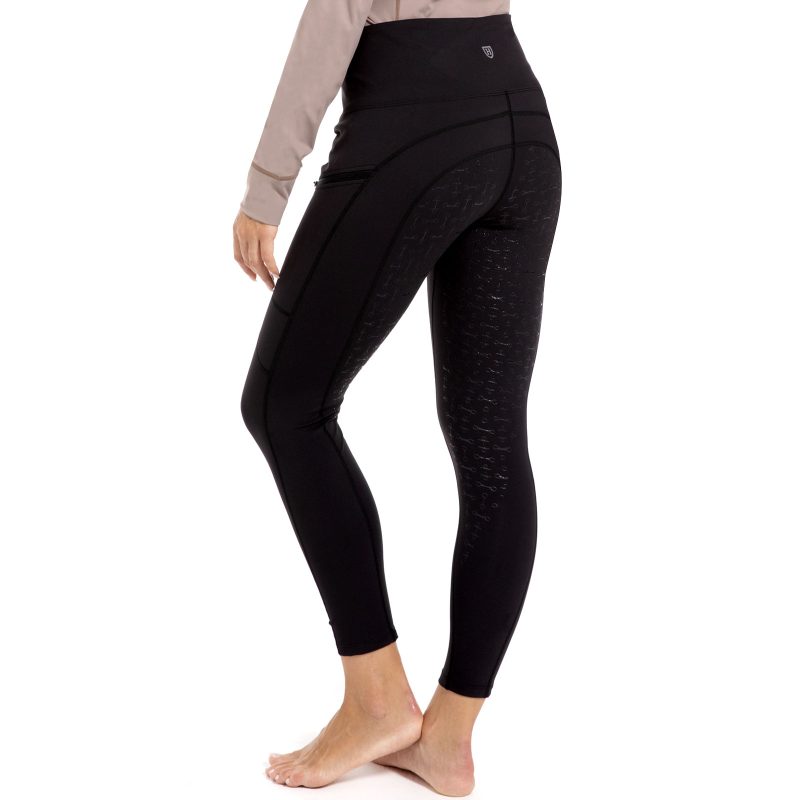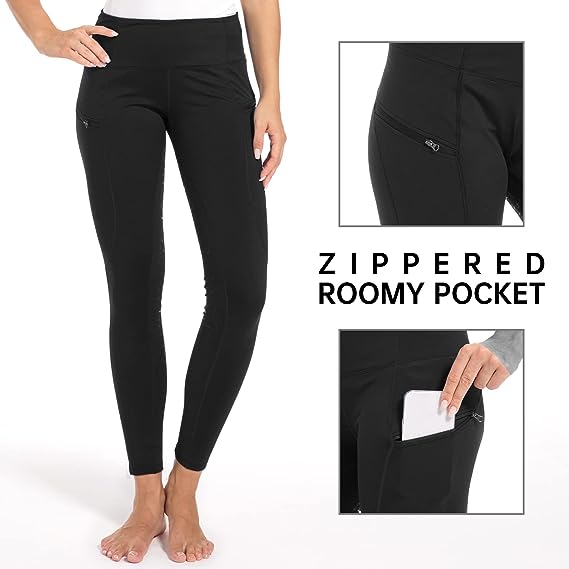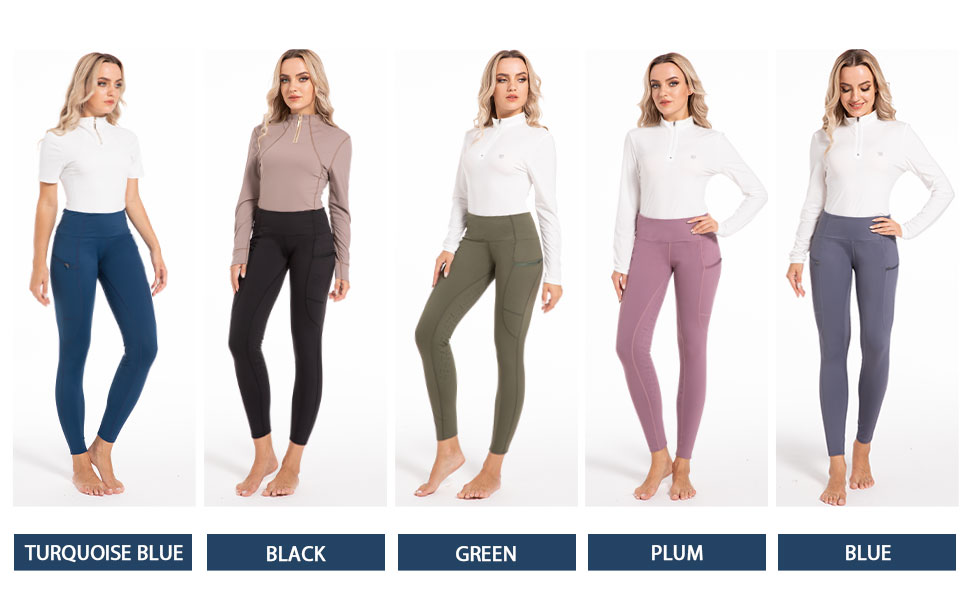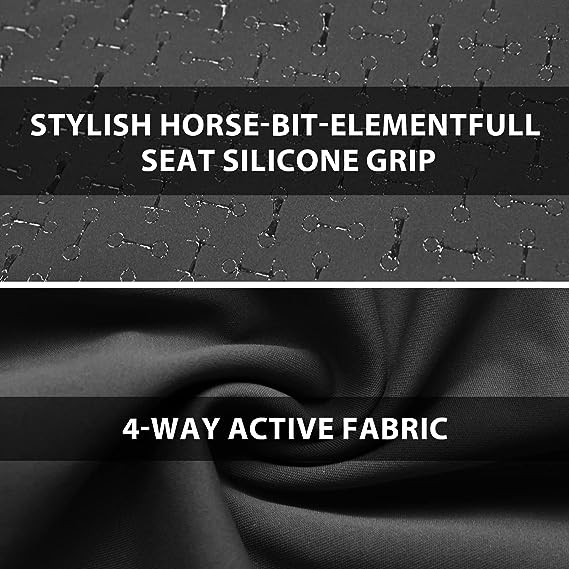 Embrace Classic Elegance: The Ladies Rinding Base Layer
The 71% Nylon and 29% Spandex 4-Way Stretch Base Layer is the epitome of classic elegance. Ultra-soft and breathable, this base layer offers superior ventilation and comfort during your rides. The form-flattering seams create a tailored fit that exudes poise and sophistication. Whether you're preparing for a competition or simply enjoying a leisurely ride, this base layer is your go-to choice. The ¼ zip and standard-height collar add a touch of sharpness to your look while providing easy on-and-off convenience. Pair it with our Classic Riding Breeches for a timeless ensemble that showcases your refined taste and love for equestrian elegance.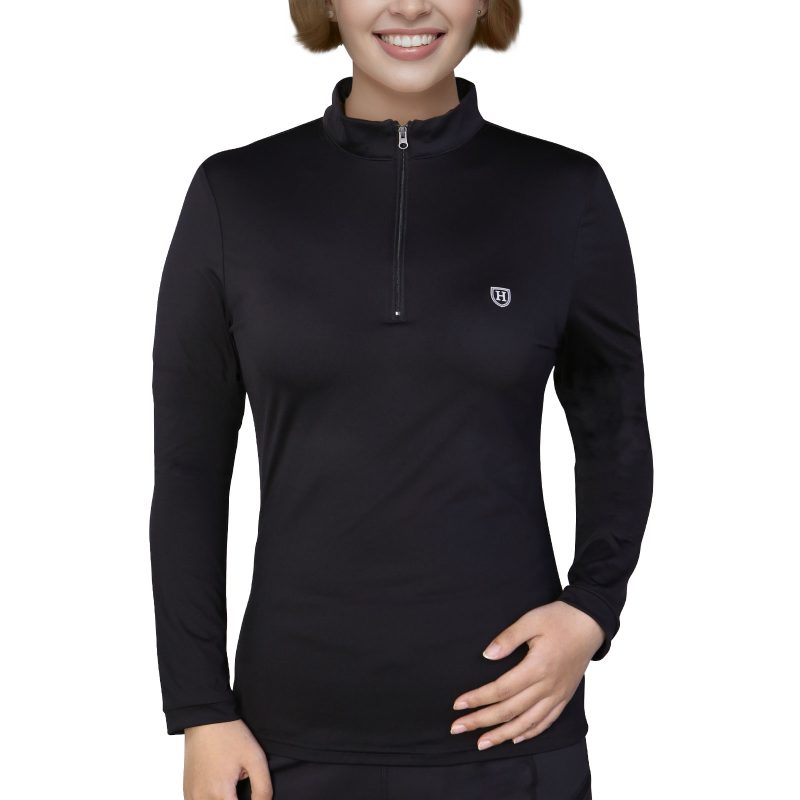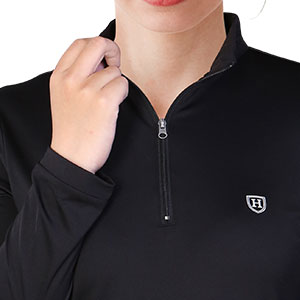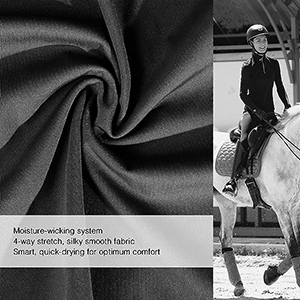 Elevate Your Performance: The Jersey Competition Polo Shirt
Our new Jersey Competition Polo Shirt, made from a premium blend of 67% Chinlon and 33% Spandex, brings together style and functionality seamlessly. Its elegant, form-fitting design is tailored to enhance your performance while making a bold fashion statement. The shirt's breathability and unrestricted comfort make it ideal for competitions, training sessions, and even casual wear beyond the arena. Embrace your individuality with this versatile piece, as it pairs beautifully with various outfits, elevating your equestrian style to new heights.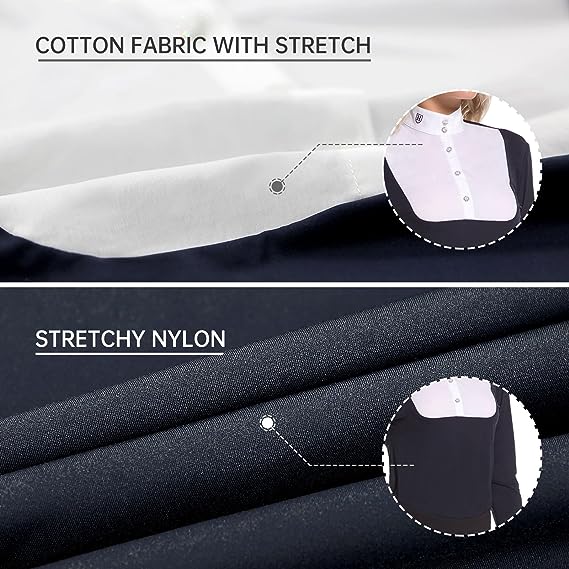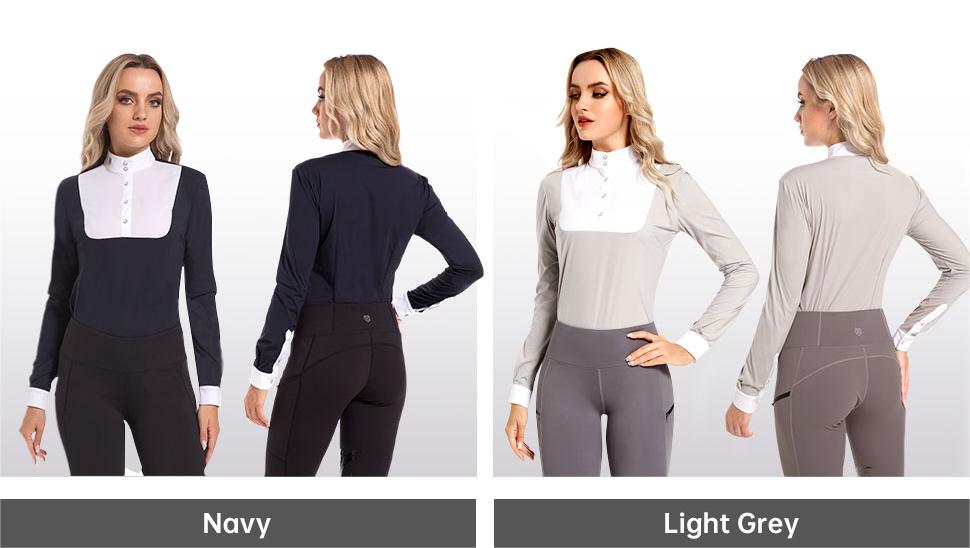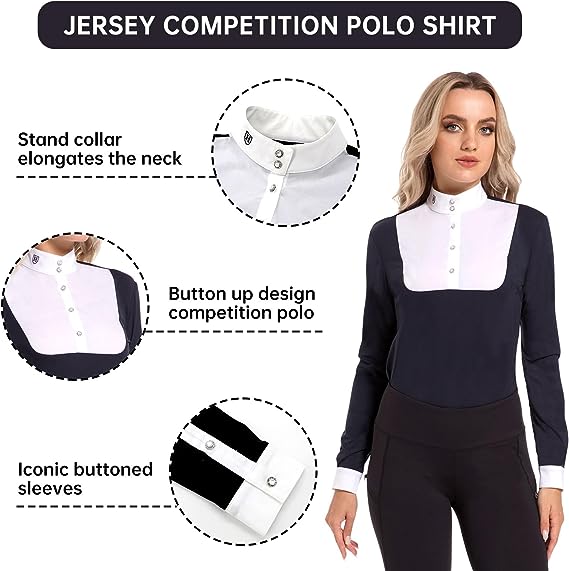 Embody Grace and Confidence: The Pleated Show Shirt with Short Sleeves
Step into the future of equestrian fashion with the Pleated Show Shirt with Short Sleeves. Designed for optimal comfort and fit, this shirt allows for freedom of movement, ensuring you can perform at your best during competitions. Crafted from advanced performance fabric, this polo shirt wicks away sweat, keeping you cool and dry in the spotlight. The elegant design and subtle detailing make this shirt a perfect match for the competitive arena, where you can showcase your personal style while conforming to show standards.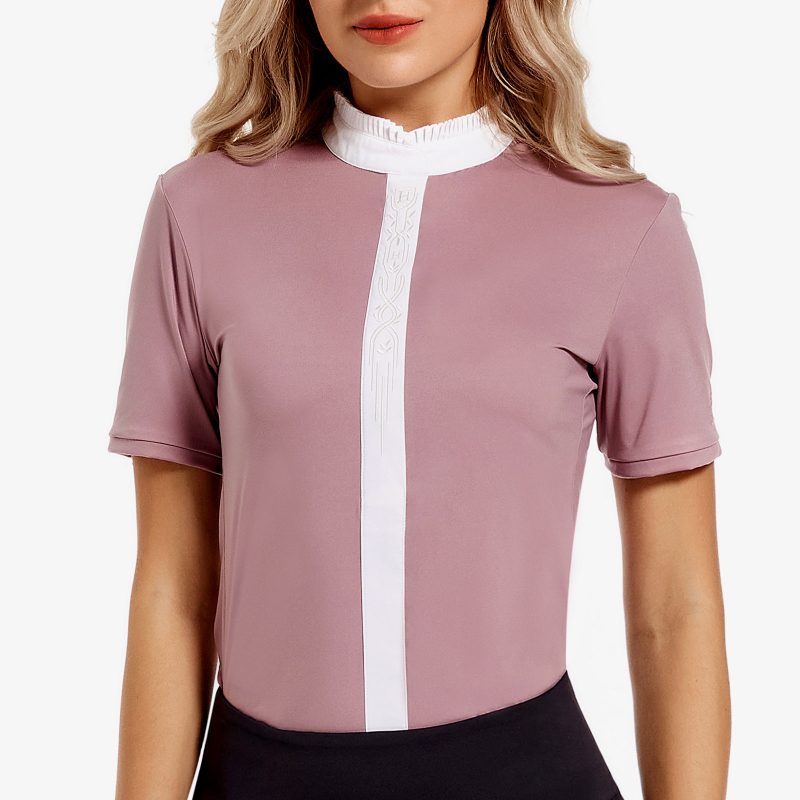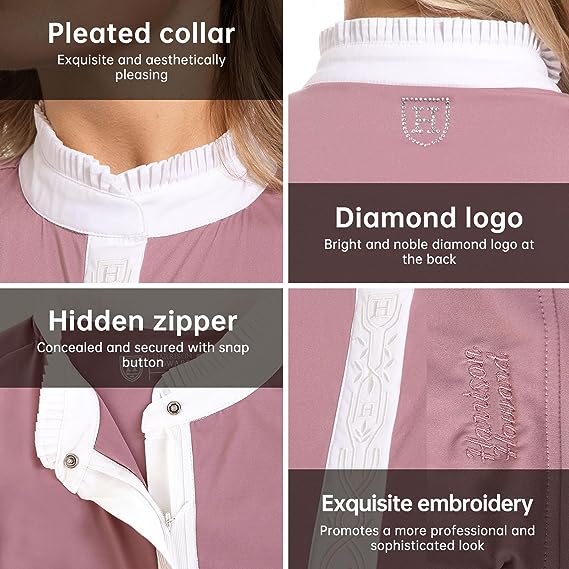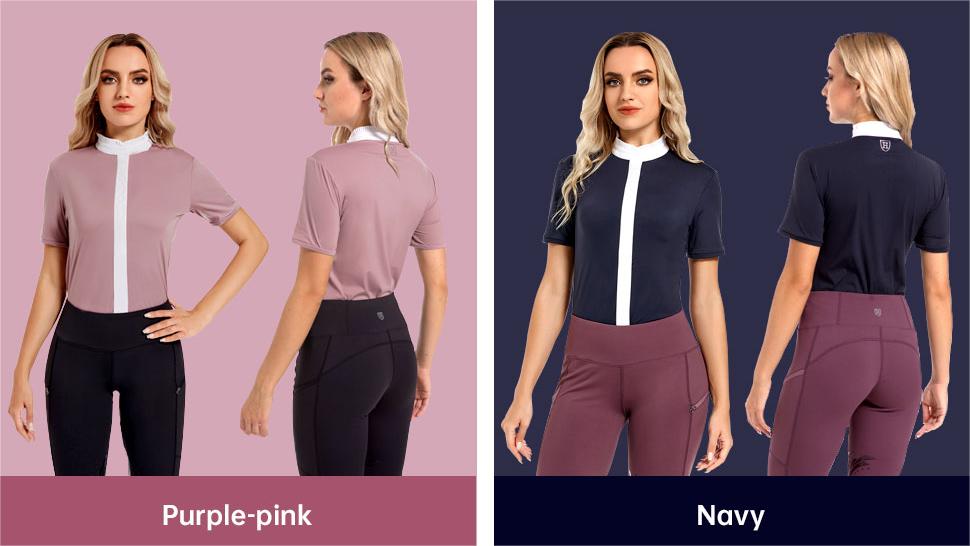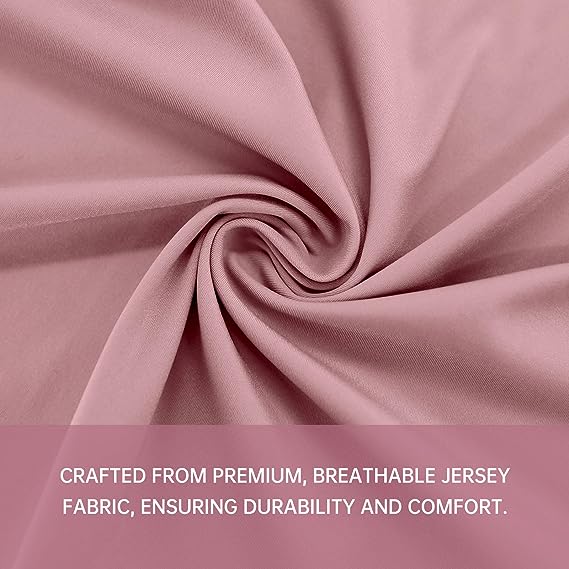 Mix and Match with Endless Possibilities:
With our selection of classic riding breeches and shirts, the possibilities for mixing and matching are endless. Embrace a timeless look by pairing our Ladies riding Base Layer with Classic Riding Breeches for a sophisticated ensemble that transcends trends. Elevate your performance with our Jersey Competition Polo Shirt or our Pleated Show Shirt with Short Sleeves, paired perfectly with our classic riding breeches.  The key is to unleash your equestrian style, embracing comfort, functionality, and elegance in every ride.
In the vibrant world of equestrian sports, style and functionality go hand in hand. Our collection of classic riding breeches and shirts offers the perfect blend of comfort and elegance, allowing you to perform with confidence and flair. Mix and match these exquisite pieces to create captivating ensembles that reflect your unique personality. Embrace classic elegance, elevate your performance, and embody grace with our versatile riding apparel. Unleash your equestrian style and conquer the arena with confidence and allure, leaving a lasting impression on horseback and beyond.